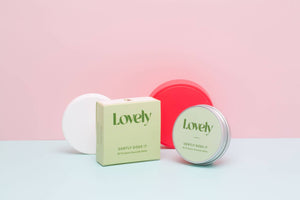 All Purpose Avocado Balm - Gently Does It
Lovely Skincare
Regular price £11.50 Sale
Your one stop shop for dry skin.  We have partnered with Lovely Skincare based in Sheffield, to bring a range of balms to our customers.

Use this nourishing avocado balm on feet, cuticles, elbows and anywhere else that might need some intense moisturisation.
Formulated with unrefined avocado oil for healing, cocoa butter for supple skin and calendula for its soothing properties.
This balm contains beeswax and so is not vegan.
60ml 
Ingredients :
Unrefined avocado oil (persea gratissima), sunflower oil (helianthus annus), castor oil (ricinus communis), beeswax (cera Alba), cocoa butter (theobroma cacao), calendula extract (calendula officinalis)